Virus Removal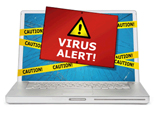 Thousands of computer viruses spread themselves throughout the world by email, file sharing and the Internet. Viruses might steal information off your computer or make your machine a spam-spewing "zombie". Our expert Vazquez Electronics IT technicians will thoroughly examine your computer and media for viruses, isolate and remove all viruses found, and repair damaged files as completely as possible !
Adware / Spyware Removal
Spyware secretly tracks your computer usage and can slow your computer to a crawl. Adware makes your computer display annoying advertising pop-ups. Spyware and adware hide in file-sharing and other programs you might install on your computer from websites you visit. Vazquez Electronics service professionals not only find and eliminate spyware and adware, but also help protect your computer from future intrusions.