Networking Services
We Make Technology Work For You!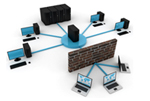 When other network IT support companies put you on hold, Our It Department puts you first. Our world class customer service and unique partnership approach are a step above the rest with proactive, personalized network solutions that minimize downtime and maximize productivity. We are ready with the IT support and expertise to keep you focused on running your business.

Our IT support specialist for small business can help enable your business success by helping you effectively use and manage your technology systems. Our managed IT support programs will enable your business to finally align business objectives with IT.

Now that you've decided to start a network, it's time to decide what kind of network best suits your networking needs. Basically, there are two kinds of networks, wired and wireless. The most basic difference is that wired networks communicate through data cables, while wireless networks communicate through radio signals.